La iniciativa de jóvenes, voluntarios, inventores, makers, personas obstinadas en encontrar soluciones que ponen sus conocimientos y avances en tecnología al servicio de la humanidad usando el crowfunding cómo herramienta para financiar proyectos y crear un círculo de ayuda en dónde todos los que quieran se pueden unir ¿Te unes a este sueño?
We are young, volunteers, inventors, makers, stubborn people finding solutions to What?. Everything you can. We put our knowledge and advances in technology for humanity using the tool crowfunding how to finance our projects and help create a circle where everyone who wants can join and crash five. Are you ready to you join this dream?
El 6.5% de la población colombiana sufre algún tipo de discapacidad y los recursos del estado no son suficientes para cubrir necesidades como, prótesis para niños sin extremidades. La medición, fabricación y rehabilitación para aprender el uso de este es un procedimiento caro e imposible de costear para miles de familias en Colombia. Nosotros queremos cambiar esta realidad, ¡solo necesitamos que nos choques esos cinco!
6.5% of the Colombian population suffers from some form of disability and state resources are insufficient to meet needs as children without prosthetic limbs. The measurement, fabrication and rehabilitation to learn to use this is an expensive and impossible procedure afford to thousands of families in Colombia. We want to change this reality, we need only crash five!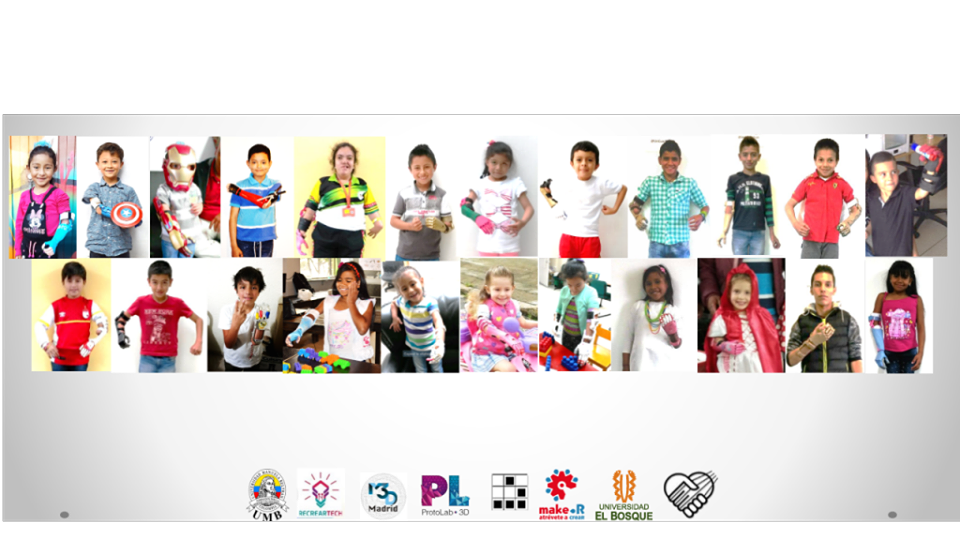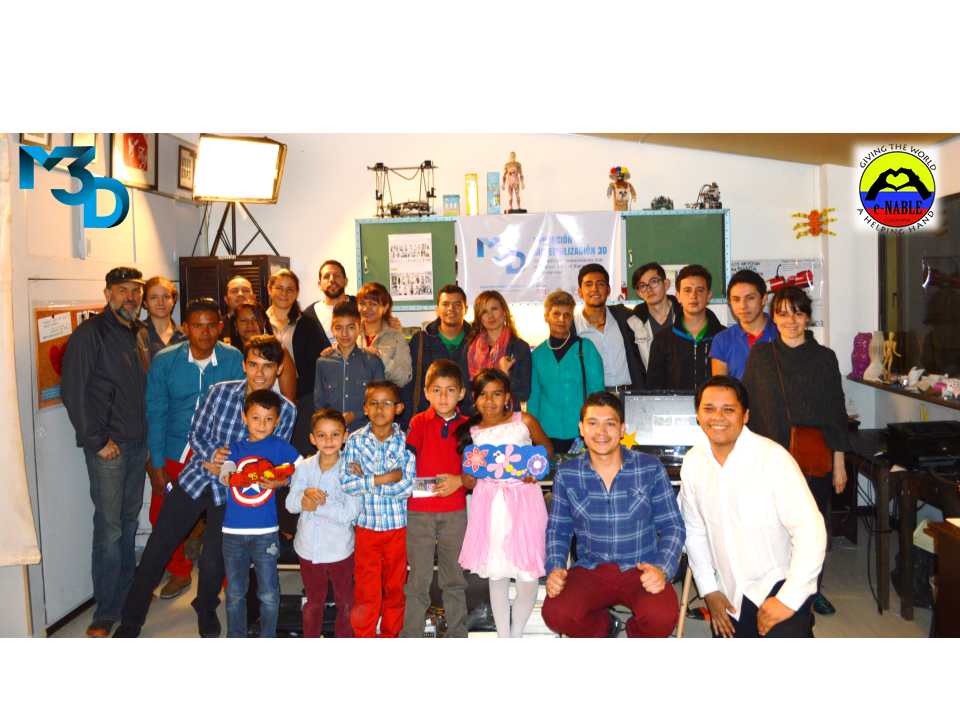 En nuestro primer proyecto nos ligamos a la red e-NABLE enfocada en temas de biomecánica e impresión 3D. Buscando mejorar la calidad de vida a partir del uso de la tecnología.
In our first project we link to e-NABLE network focused on issues of biomechanics and 3D printing. seeking to improve the quality of life through the use of technology.
Esto nos permitirá desarrollar soluciones a un bajo costo gracias a la filosofía libertad que invita a usar y compartir los conocimientos y avances a la red de ayuda sin ánimo de lucro. En otras palabras, todos los desarrolladores que se unen a e-Nable regalan sus avances para que las personas que lo necesiten puedan hacer uso de ellos.
This will allow us to develop a low-cost solutions thanks to the freedom philosophy invites you to use and share knowledge and advances to support network nonprofit. In other words, all the developers who join e-Nable give away their advances for people who need to make use of them.
Desde Colombia hacemos nuestro aporte con desarrollo 100% local, personalizando cada uno de los prototipos de prótesis tratando de llegar siempre al más bajo costo, pero con un diseño liviano y funcional para ser usado por niños.
From Colombia we make our contribution to developing a 100% local, customizing each prosthesis prototype trying to always get the lowest cost, but with a lightweight and functional for use by children design.
Los tiempos de respuesta que damos son infinitamente más rápidos que la solución tradicional lo que contribuye a bajar costos, dando esperanza a muchos más niños de recibir una solución a tiempo que nunca imaginaron.
Response times that we are infinitely faster than the traditional solution which contributes to lower costs, giving hope to many more children receive a solution in time than ever imagined.
Este es un proyecto que sabemos cómo comenzó pero aún no podemos imaginar cómo termina, porque día a día se unen más colaboradores trayendo soluciones que nos permiten soñar en grande.
In this project we know how it started but we can´t even imagine how it will ends, because every day more contributors come together bringing solutions that allow us to dream big.
¿Te imaginas convertir todos los desperdicios plásticos en manos impresas en 3D? hoy en día es posible con desarrolladores completamente locales.
Can you imagine convert all plastic waste in 3D handprints? Today it is completely possible with local developers.
Desde innovadores, prototipadores, fabricantes, aficionados, ingenieros, médicos o simplemente voluntarios con el ánimo de ayudar, estamos todos trabajando para avanzar con esta solución en impresión 3D.
From innovative, prototypers, manufacturers, hobbyists, engineers, doctors or simply encourage volunteers to help, we are all working to advance this solution in 3D printing.
https://www.facebook.com/M3DEnable/