IMPRESION 3D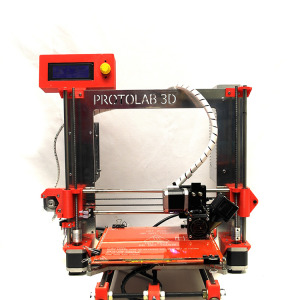 Una impresora 3D es una máquina capaz de crear físicamente objetos de diseño digital. Esta máquina está revolucionando la industria de la manufactura.
Con esta tecnología puedas construir y fabricar objetos en tu propia casa o tienda, los artículos que anteriormente tenían que mandar a hacer en las grandes fábricas.
La facilidad de diseño y construcción de prototipos nos permite hacer múltiples pruebas, lo que fomenta la innovación.
Nuevas herramientas de diseño en colaboración con las comunidades que comparten sus diseños con licencias abiertas han motivado muchas nuevas invenciones.
Una impresora 3D le permite descargar, copiar, modificar, compartir y mezclar objetos digitales.
El potencial de estos dispositivos llega hasta el punto de que una impresora puede imprimir todas las piezas para construir otra impresora "maquinas que se replican así mismas".
Archivos digitales, software y hardware abierto están disponibles en internet para libre descarga, todo es posible ahora, lo que ha hecho emerger una gran cantidad de emprendimientos e impresoras de bajo costo fáciles de construir en casa. Es parte del comienzo de una nueva revolución industrial. Este es un momento en el que podemos diseñar, crear prototipos, construir y vender desde tu propio hogar.

A 3D printer is a machine capable of creating objects from digital designs. This machine is revolutionizing the manufacturing industry. It allows an individual build-in their own home or shop – Items which previously had to send to make in large factories. The ease of designing and building prototypes allows us to do multiple trials, which encourages innovation. New tools for collaborative design with communities that share their designs with open licenses have encouraged a lot of new inventions. A 3D printer lets you download, copy, modify, share and mix objects. The potential of these devices is get to the point that a printer can print parts to build another printer. It is already in the printer market with schematic drawings and open software and hardware, which has made it emerge a lot of inexpensive printers easy to build at home. It is part of the beginning of a new industrial revolution. This is a time where we can design, prototype, build and sell in a garage.